How a Storytelling Workshop Opened the Door for Community Collaboration
Dallas has been booming for years. Business expansion draws new residents daily, leading the economy to flourish in many communities. New housing and corporate developments break ground regularly as the tollways expand to support a growing population.
However, some Dallas communities, like South Dallas, haven't been so lucky. Just 10 minutes south of downtown, urban decay has taken its toll, and the neighborhood's image doesn't even come close to reflecting the thriving spirit of the people who live there.
Collaborating for Communities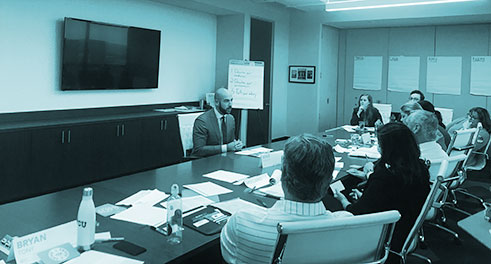 ​It was time for a change. Knowing collaboration is critical to turning community tides, St. Phillips School and Community Center, Cornerstone Baptist Church, and The Real Estate Council joined forces to form the Dallas Catalyst Project (DCP), an organization committed to building  a safe and prosperous community in South Dallas.
But they didn't want to do it alone. With high stakes and numerous stakeholders, they knew success hinged on a powerful story. In order to bring the community's vision to life and garner much-needed support, DCP partnered with GatherRound to shape the narrative that would help revitalize these historic neighborhoods.
Community redevelopment requires more than elbow grease—it needs a succinct vision that benefits residents, while balancing stakeholders' bottom line. The first step towards success was creating alignment. GatherRound led over 40 project participants in a Storytelling workshop, where the group explored the key motivations of their neighborhood residents, prospective donors, and community pillars.
After the team had developed a unified strategy for a hopeful future, GatherRound guided key stakeholders through the Campfire Method®. Together, they structured a compelling narrative that would revolve around their audiences' desires for local job opportunities and improved neighborhood safety. Then, they brainstormed ways to bring it to life as authentically as possible.
Empowering South Dallas Residents
The captivating stories that GatherRound and DCP developed laid the foundation for a suite of marketing materials, including a compelling video that garnered unprecedented community and donor support. These narratives continue to help vested corporations understand how they can partner with DCP to champion community improvements that are both beautiful and beneficial.
​
The surge in support means residents can feel proud and empowered about the future of South Dallas. And most importantly, the community knows it has an entire network of partners like DCP and GatherRound, invested in a brighter tomorrow.